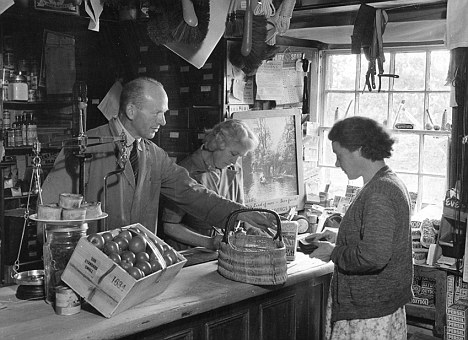 Meet Florence Snyder, also known as, grandma. Grandma lived, what is now considered, a long time ago. Back then, when grandma went to buy groceries, something magical happened…
The A&P manager would greet her and say, "Good morning Mrs. Snyder! We just got fresh bread from the baker and I've saved some of those bananas—just the way you like them!"
The butcher would say, "I'm wrapping your cuts right now—hey, take a look at the brisket here—isn't it beautiful? How about you take some home?"
When grandma went downtown, the lady behind the cosmetic counter, and even the man who pumped gas and checked the tire pressure, knew what grandma liked!
Now, grandma wasn't a celebrity; heavens knows she wasn't rich. That's just how business was done—service and relationships.
People knew your name, your likes, and your dislikes. They asked questions and made suggestions. You never felt you were being "sold something"—you were just being helped.
You weren't a consumer; you were a neighbor, a real person. "Customer relationships" were really just conversations and suggestions that created value for everyone.
It's doesn't seem to work that way anymore, does it? Most of us have accepted this lack of service as status quo.
We don't.
Customer service isn't a lost art. With PlanPlus Online CRM, it's good business—and that "blast from the past" is the future we're building.
PlanPlus Online CRM works whether you're B2C or B2B; regardless of a bricks and mortar presence or
strictly ecommerce; regardless if your customer is General Motors or simply Florence Snyder.
With every exchange, you'll have access to all the information available about that customer–in order to have a meaningful interaction—regardless if you have dozens or tens of thousands of customers.
In addition to wanting to serve your customers and potential customers better, here's eleven more reasons you need a PlanPlus Online CRM:
    

You feel like you're swimming in information that you can't keep track of.

    

You're losing business because leads are falling through the cracks.




    

You waste time trying to find customer emails.

    

You're missing appointments and not following through on tasks.




    

You have no idea if your business is growing or how it's growing.




    

Your customers have to repeat themselves every time they call.




    

Each person on your sales team has a different sales process.




    

You lost a hot lead list when an employee left your company.




    

There's no consistency in email messaging sent to your leads.




 

Your sales team has no way of prioritizing their task list




 

You don't have a way of collaborating as a team.
If you're wondering if you need an online CRM, click here for a quick video that might help.
If you like this video, we should talk.