If you take care of your sales reps, they're going to take care of your business, so having a CRM that performs well in these areas is definitely in your best interest. Sales reps needs focus around several key features: contact management, lead and pipeline tracking, and deal management.
Sales teams often harbor a misconception that CRMs are a waste of time, that the valuable time spent inputting data would be better spent in meetings or on the phone with customers working the sale. What they fail to see is how a CRM actually makes their jobs easier and helps improve their performance.
When Should You Switch to a CRM?
If using a customer relationship management system is a good idea for your business, when should you begin implementing it? Right away? Or wait?
A rule of thumb is to begin using a CRM sooner rather than later. Unfortunately, many businesses wait until something in their sales process goes wrong before they try out a customer relationship management system. Below are some scenarios that can indicate the perfect time to start using a CRM:
The use of spreadsheets makes it too difficult to manage data
Data is lost due to an employee leaving
Data is kept in so many places that it slows your sales team down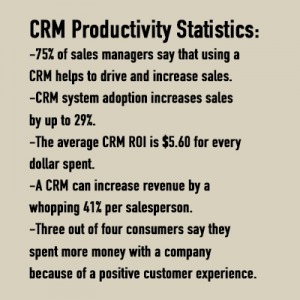 Show your Sales team the benefits of CRM
The first thing your sales team is going to want to know is what the CRM is going to do for them. In order to get through any walls they may have put up, you will need to show them the personal benefits they can expect from using the tool. Some of the key benefits you should stress are:
Automates reporting
Show them how a CRM means no more having to comb multiple spreadsheets to manually create regular reports. This addresses a common pain point for many salespeople, who are loathe to compile and submit reports.
Centralizes customer data
This includes contact information, notes, and sales history. Centralization makes it easier for sales teams to reference the information they need more quickly. Ask your sales team to recall the last time they lost that scrap of paper with notes from an impromptu customer call and explain how inputting that data in the CRM eliminates that mistake.
 Set reminders for follow-up calls or appointments
Another pain point for salespeople is managing their calendars. CRMs help them do this more efficiently so they don't miss appointments.
Create more time for selling
At the end of the day, all of the benefits lead to the most significant of all — salespeople will have more time to spend actually interacting with customers and closing sales.
When showcasing the benefits of CRM to your sales team, it is crucial to speak to their pain points and specific challenges. Salespeople don't realize that many of them miss out on following up with prospects, they forget crucial information and then using the data ongoing for marketing and farming purposes is a lot harder with incomplete or worse, no records.
It's important to demonstrate to them how a CRM solves these problems.
Benefits for Sales Reps
Customer relationship management systems can make your sales team more productive and effective in fostering relationships with leads and customers. Below are some of the benefits our CRM can have on your sales team:
Saves your sales reps' time and energy by reducing and automating routine data entry.
Gives sales managers and salespeople a more accurate view of their performance and quotas.
Allows managers to more easily check the progress of individual sales reps.
Creates greater sales team sustainability in case team members leave.
Makes customer information more visible and accessible.
Fosters friendly, healthy competition amongst sales team.
Tracks sales funnels to create smoother transitions.
Enables your team to find the right customers.
Improves employee productivity.