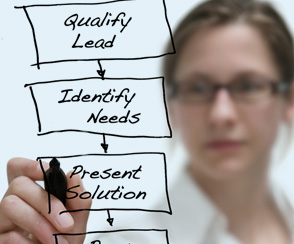 If your organization is involved in sales, you already have a sales process. But unless you have an identified and established sales process, you'll find that random acts produce random and uncertain results. In sales, random acts can be used occasionally, but a systematic and well-defined best practices approach can assure predictable results.
In simple terms, a sales process is a systematic (step-by-step) approach involving a series of steps that enables a salesperson to close more deals, increase margins, and make more sales through referrals.
Why do you need an established sales process?
It creates predictable outcomes that could lead to more sales and higher margins.

It defines activities that should be repeated to obtain the desired outcomes again and again by any salesperson within the organization—and when news salespeople are hired.

It creates outcomes that can be measured and compared.

It leads to a larger percentage of profitable sales.

It forges stronger bonds between the company and the customers.
How do you build a sales process?
Start by observing. Look back at the last five to ten deals that closed and ask yourself questions such as:
What were the major steps in the process?

What were the touch points with the customer?

Roughly how long did the entire process take, and how much time elapsed between each step?
The more examples you have the better. For example, a sales process might involve the following key steps:
    

Prospecting

    

Qualifying

    

Proposal/presentation

    

Handling Objections 

& Ongoing Follow-up

    

Closing
Here's a process you can use for starters:
Suspect

Qualified

Prospect

Hot

Pending

Won
Here is an instructional video and free PDF forms to help you create your sales process:
Watch video: How to identify and create your sales stages using the PDF templates.
Download PDF example of completed sales stages diagram.
Download PDF example of blank sales stages diagram.
Incorporate your sales process into your CRM
After you've identified and created your sales process, you're ready to use the sales process features of PlanPlus Online Business edition—the customizable CRM software with a productivity advantage.
Risk-free offer: PlanPlus Online has small business CRM experts standing by to help you. To schedule your free 20-minute, no-obligation consultation click here.